Schedule
Upcoming Events WINTER/SPRING 2017
Voyages and Work Sessions
Appearances/Demos/Gatherings
ListServ Info
T-Shirts For Sale

Voyages & Work Sessions
All dates and details should be confirmed through the LSCo Hotline 301-390-4089 - note, this is a person's house, please don't call before Eastern Time or after ).
Email longshipco AT hotmail.com for more information on all events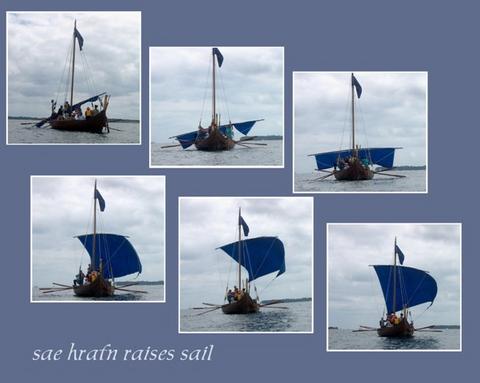 Current voyage schedule (There may be changes due to weather, etc. Watch for updates)
The Sae Hrafn is out of the water for the winter. A great "Thank you" to all who helped make the 2016 sailing season a success. If you can, please come help us work on her to get ready for the 2017 season - see WORK SESSIONS below.
.
Work Sessions
Maintaining the ship is critical to the Longship Company, and participating in the work provides as much, or more, historical experience and insight as sailing and rowing on her.
WORK SESSIONS 2017 -- Dates and tasks are tentative depending on the weather.
May 6 Saturday - work session We will be replacing the interior decking and starting on oiling the interior of the ship. Continue caulking. Perhaps start some bottom painting.
May 13 Saturday - work session Caulking, finishing interior oiling, perhaps starting bottom painting of sections previously caulked
May 27 Saturday Bottom painting and preparing for launch
June 3
June 10 possible launch if all has gone well and on schedule

Appearances/Demos/Gatherings/Events
All dates and details should be confirmed through the LSCo Hotline 301-390-4089 - note, this is a person's house, please don't call before Eastern Time or after
Email longshipco AT hotmail.com for more information on all events
INTERESTED IN COMING ALONG ON A VOYAGE IN 2016?
Our typical voyage is a casual afternoon trip of a few hours, devoted to developing ship handling skills, conducting archeology by experimentation, scouting locations for future filming or other activities, and/or just enjoying the the water, sun, surroundings, wildlife, etc. while getting some great exercise. Those guests physically able to do so are expected to help in rowing and the general operation of the ship as needed. Depending on crew size, the weather, and other conditions, we may go out on the lower Potomac (or Chesapeake or Patuxent - depending where we are docked), or explore some of the nearer and more sheltered estuaries in the area. If you would like to take part in a voyage, we welcome you to come along as a guest -- space and circumstances permitting. Contact us to make arrangements and get the required information. There is no charge. However, donations to the organization are most welcome, and enable us to maintain these unique historical and educational resources here in the mid-Atlantic region.
.
ListServ

Info

If you are interested in joining our ListServ which gets information on upcoming Longship Company events, related events, discussion of boats, etc., please visit the YahooGroups website for information or send an email to mailto:longship-company-subscribe@yahoogroups.com
Longship

Company T-Shirts

Are available. $12 for members, $15 for non-members plus postage. Email longshipco@hotmail.com for ordering information.
---
All activities of the Longship Co., Ltd., including activities involving the Sae Hrafn or the Gyrfalcon, are at the discretion of the Board of Directors. If you have any questions about specific events contact the person(s) listed above, if you have something for the board, the newsletter, or want more info on joining, please contact the board at the company email box LongshipCo@hotmail.com --- or call the Longship Hotline at 301-390-4089 (Maryland, USA) for more information.
VOYAGE REGULATIONS
While serving aboard Longship Company vessels you are expected to obey the following regulations:
1. All crew (LSCo members and guests) and officers are expected to row if physically possible. Guests MAY be excused from this requirement.
2. Personal Flotation Devices (Life Preservers) are stowed under the thwarts. If you can't swim or are a poor swimmer, we strongly recommend that you wear one. If you are a good swimmer, be sure to keep it at hand. If you are below the age of 13, Maryland law requires that you wear one at all times. If conditions warrant it, you will all be ordered to wear them. The Mate will demonstrate how they are worn.
3. Please feel free to ask questions or request help from any officer or crew member.
4. In addition, we request that you report any danger or unusual occurrences that you may observe. We can't see everything all the time.
5. In the event that someone falls overboard, speed is of the utmost importance and their rescue shall take precedence over everything else. Shout "Man Overboard!" as loudly as you can and immediately throw a life vest, life ring, or anything that floats, towards them. Even if they are already wearing a life vest, additional flotation will still be useful. If they sink, it will mark the spot we need to return to. Under no circumstances should anyone else jump overboard, as we do not need to try to rescue two people at the same time.
6. We carry ample water aboard. Please avail yourself whenever thirsty, or in hot weather, even before you're thirsty.
7. Please keep one hand for yourself and one for the ship.
8. Ask permission before moving from your station.
9. Please ask permission if you want to use any ship's equipment.
10. Please do not litter. Trash will be stowed in designated places.
11. Never jump into any vessel. They are not built for it.
12. Orders will be given by the officers and will always be clearly indicated. Any sentence beginning with "I wonder what . . . " or "I think we should . . . " is a matter being considered and/or discussed, and NOT an order, so do not jump the gun and start the action before the actual order is given.
13. You are reminded you are on this voyage voluntarily. As such, you are responsible for your own safety. Please act prudently and responsibly in all situations.
14. There will be no smoking on this vessel.
15. The use of alcohol will be strictly controlled*, and at the discretion of the Captain.
16. The possession and use of any drugs not prescribed by your doctor, or any illegal substances is forbidden. If any violation of this regulation is revealed, the vessel will return directly to port, and the authorities will be notified. The Coast Guard will seize any vessels with drugs aboard, and we wish to avoid that fate.
(*Out on the water in general, and especially on a crew-dependant ship like ours, consumption of alcohol even in moderate amounts can be dangerous. So, while alcohol is not absolutely prohibited in all cases, safety is paramount. When allowed, consumption of alcohol will be limited to amounts that will not affect performance and will not have any possibility of jeopardizing safety.)